Mr. Fuson predicts top trends driving consumers to beauty counters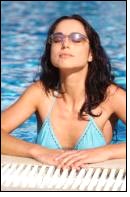 Rising concerns about potential skin damage are fuelling an increase in sales of sun care products among health-conscious American women who still want a sun-kissed look.

But across the globe, whitening products are flying off the shelves as Chinese and Japanese consumers seek the "must have" fair-skinned look.

Both trends represent significant growth opportunities for companies supplying the manufacturers in the thriving personal care market.

Those who best understand the different trends in various parts of the world and customize their products to reflect variations in culture, gender and even climates, will be more likely to succeed, says Scott Fuson, executive director for Life Sciences at Dow Corning.

Dow Corning provides performance-enhancing materials that give beauty and personal care products unique features and attributes.

Scott predicts that emerging trends will gain greater hold over the next few years, including.
- Significant growth in demand for sun care products because of heightened consumer awareness of the dangers of unprotected tanning.
- Greater emphasis on grooming products designed specifically for men - already a booming sector in countries such as India.
- A rise in next-generation anti-aging skin care products that rival surgical results.
- Time-pressed consumers who will demand even more products with multifunctional benefits, such as sunscreens with moisturizing benefits and shampoos blended with conditioners.