Paspaley unveils stunning spring collection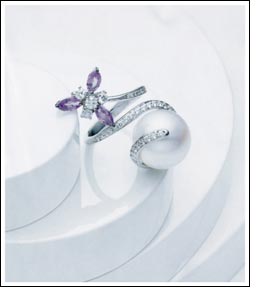 Paspaley unveils its stunning Spring collection showcasing exquisitely-crafted necklaces, brooches and earrings combining white gold, diamonds, amethysts and the finest South Sea pearls. In a journey that began over 70 years ago, Paspaley has evolved into a jewellery house of prowess that continues to delight women, and its latest creations prove its mastery once more.

It is in the hands of a master jeweller that tough materials such as white gold and diamonds yield themselves to the demands of design. And when it comes to Paspaley, one's expectations are naturally high. Its gorgeous South Sea pearl is always the protagonist, with the design of the jewel woven around it like fable to a main character. In its Spring offering, white gold settings along with diamonds and amethysts complement the natural charm of South Sea pearls, enhancing in turn both the pearl and its enviable wearer's looks.

"Paspaley's new creations are one-off delights that resonate with the inner beauty of a woman, reflecting her aspiration and depth of expression. As an acknowledged authority on pearls, Paspaley continues to inspire the world with its stunning creations. The combination of amethysts with diamonds perfectly offsets the luster of South Sea pearls, giving way to unique and truly unforgettable jewels that women in the region will certainly fall for," enthused Tawhid Abdullah, Managing Director of Damas.

A dazzling array
Taking a white gold strand sprinkled with diamond glitter, the artist twirls it endearingly around a South Sea pearl to create a bewitching brooch, and by way of a finishing touch, places a delicately fashioned three-petal flower sparkling with amethysts and diamonds over it - perfect on your business suit or spring attire too.