First ever Coach store to open in Europe at Heathrow Airport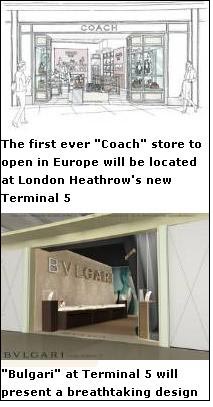 The Nuance Group is proud to announce that it has won three concessions at the prestigious soon-to-be-opened T5 development at London Heathrow Airport. In winning the concessions, Nuance overcame fierce opposition and will as a result operate the first ever Coach boutique in Europe. The other concessions include a Bulgari boutique and a Chocolate Box. The concessions are for a five-year period, starting from March 27, 2008.

The Nuance Group is extremely proud to be able to announce that it has formed a partnership with the luxury American brand Coach. Founded over fifty years ago, Coach has become synonymous with American craftsmanship.

Today, Coach is considered a classic part of the landscape of American design. Nuance will operate a 78 sqm Coach store in T5, the first in Europe. This spectacular new store boasts design features that include art deco inspired lighting and an exclusively designed marble floor.

The store will carry a full assortment of the world famous Coach brand handbags, including limited editions, accessories, sun wear, watches, scarves and small leather goods. The store will also mark the opening of T5 with specially selected exclusive items.

The 53 sqm Bulgari store will complement T5 with its unique design and will feature a contrast of light and dark colours incorporating natural materials. The finish is truly memorable with one wall being composed of light coloured stone. The other wall will be curved and will include a luxurious smooth plastered finish in black. It is envisaged that this will house the extensive range of Bulgari accessories.