Nickelodeon & stride rite to launch new Nick Slimers!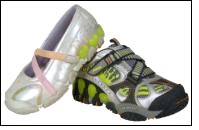 Nickelodeon, the number-one entertainment brand for kids, and stride rite, the leading brand of children's footwear, have teamed up to create a kids' fashion first with four styles of "slime-inspired" shoes. Slime, Nickelodeon's iconic green goop, has been incorporated in products from toys to books.

The new Nick Slimers! by stride rite line, due in stores in July just in time for the back-to-school shopping season, is the debut of slime in footwear and features fashion-forward styles for boys and girls.

Two boys' styles, "Barforama," an alternative closure and "Snotrocket," a hook-and-loop closure, each feature a rugged Slimers! logo imprinted outsole, a wrapped toe for durability at play, gooey green splat inspired prints, and their own printed "Warning: Extreme Slime Drippage" label. For nighttime stylin', the shoes' ultimate green slime pods glow in the dark.

For girls, Nick's "I Love Slime" logo colors and elements sparkle in two styles, "Stickysweet," an alternative closure, and "Ooeygooey," an athleisure MaryJane.

Both styles feature a heart-and-swirl sparkle outsole, pearlized leather upper, colorful glitter design accents and heart shaped green slime pods that glow in the dark.

Slime was introduced on Nickelodeon in 1982 and getting slimed has since become a badge of honor for both kids and celebrities. At Nickelodeon's annual Kids' Choice Awards, past slimees have included Justin Timberlake, Tom Cruise, Cameron Diaz, JimCarrey, Johnny Depp and P. Diddy.