Royal Ascot high on fashionable hats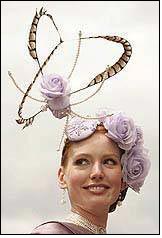 Royal Ascot is the biggest and most glamorous horse racing event in Britain. The race that began on June 17 will continue to pull fashionable crowd from various parts of the world till 21. Along with high action on course, big fashion houses have created latest designs for global glitteratis. The innovative designer hats that the ladies are flaunting, have been able to attract more attention than the main event.

However, a strict dress code is being followed by the spectators and even the royal family is no exception. This year, when Zara Phillips, popularly known as royal rebel, followed the rules, the audience seemed pretty surprised. Zara wore a beautiful and sophisticated white dress, which was far away from her usual dressing style.

Royal Ascot allows formal day dress with a hat or substantial fascinator. Off the shoulder, halter neck, spaghetti straps and dresses with a strap of less than one inch or mini skirts are considered unsuitable for the event. Midriffs must be covered and trouser suits must be full length and of matching material and colour. Men are required to wear either black or grey morning dress, including a waistcoat, with a top hat.

Overseas visitors are permitted to wear their formal national dress or Service dress. Girls need wear a dress or skirt, boys a suit or jacket and smart trousers with a tie. Jeans and trainers are not permissible at all.

Even with such rigid norms the aristocrats and nobles eagerly wait for Royal Ascot, as its not just the best and most sought after race but also the most opulent and affluent social gatherings in the entire world.