CPD unites the world of womenswear under one roof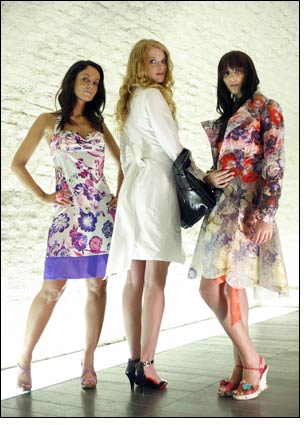 Diverse, well positioned and with an eye on the latest fashion trends, CPD starts into the new season from 27 through 29 July as part of the Igedo Fashion Fairs Düsseldorf.

With a total of 680 exhibitors and collections, including more than 80 newcomers and returnees, the fashion fair stages all facets of womenswear and is an important instigator for the industry as well as a competent guide through the jungle of current fashion trends.

The main focus is on concept areas and special segments such as Concept 11, Fashion Gallery, Maternity, Supersize and Accessories.

As an international fashion meeting place for exhibitors, resellers and industry insiders, CPD offers a trend-oriented assortment that presents itself clearly structured to visitors.

Theme and style worlds achieve a distinct segmentation; special segments such as Supersize and Maternity give buyers access to niches that are becoming increasingly important for retail through.

At the same time, CPD is strengthening its position as a major platform in Northern and Central Europe. Exhibitors increasingly utilise the trade fair as an export bridge to the East European market.

Trend show and order information – new: the Trend Zone
What is in? What must be in the shops for the spring/summer season 2009? Where is the trend headed? Answers to these questions are provided by the order information presented by CPD in collaboration with the German Fashion Institute (DMI) and the trade magazine TextilWirtschaft.

The kick-off is "Orderinfo", presented by the trade magazine Textil/Wirtschaft on Monday of the fair, where the latest fashion trends will be shown on the catwalk.

New: The current trends at a glance are presented by the newly created Trend Zone in hall 9, directly accessible from the north entrance. Figurines and photomurals inform visitors about the four "key looks" of the season.

The heart of fashion innovation beats in the Fashion Gallery; there the creative and selective is shown. A pronounced fashion pluralism brings a wind of change and is simultaneously a guide for buyers searching for something out of the ordinary.

Established designers, young designers and hot fashion labels present their unmistakable styles here. Avant-gardists and exclusive designer labels from around the globe present themselves in a sophisticated showroom atmosphere.

With us again are Anett Röstel and Petra Dieler. Alexandra Schiess, Anja Gockel London and Artwear also present their collections again. Newcomers include Catherine André, Art & Business, Monique Leshman, MDC Sportswear and Bitte Kai Rand.

Ludmila Corlateanu, Azizi, BNG, Fashion and More, Francoise Pendville, Ian Mosh, Isabel de Pedro, Heide Ost, Sylvia Heise, The Swiss Label and VM Kollektion are also present at CPD.

Matching accessories for the collections can be found right in the Fashion Gallery. Jewellery label Yuta Pasch, consisting of the two female designers Yuta Diepenbruck and Manuela Pasch, presents its elaborate creations.

The jewellery pieces are made of sterling silver, Swarovski crystals, handmade glass beads and rock crystal, and are finished with great attention to detail.

Supersize in hall 10
Large sizes offer growth potential in fashion retail, whether as a size addition or for a specialty retailer in a niche market. CPD now shows Europe's largest assortment with the leading manufacturers in this segment.

Roughly 20 labels, including Via Appia, Angel Circle, Doris Streich, Ellbi, Elena Grunert, Chalou, Brand, Yoek and Mind are utilising the CPD platform. Names such as Exelle and Laurie Design are also represented in hall 10.