DIT strengthens foothold in the UAE jewellery market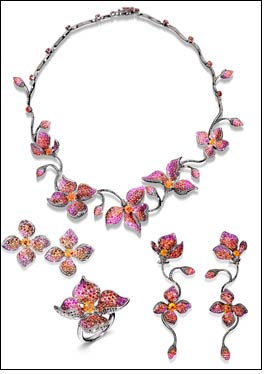 Italian luxury house DIT Group has entered the UAE's booming jewellery market by offering its high-end brands through Damas' vast retail network.

Founded in 2004, the Group houses signature brands Stefan Hafner, Porrati, Nouvelle Bague and Io Si, which are presently carried by 750 stockists across 30 countries.

The Group interprets Italian design tradition by harnessing strong values, technical and creative skills as well as efficient organisation.

Based in Italy, it secures a place in the highly competitive jewellery industry by investing heavily in research and development, product design and strategic marketing.

Explained Ilaria Furlotti, CEO of DIT Group, "Our main goal is to offer the market a whole range of highly-positioned jewellery brands with strong identities and creative content that would affirm the best values of Italian leadership in design."

In 2007, DIT Group posted a 30% increase in turnover from previous year. First quarter results of this year indicate further growth as new collections have been well received by retailers worldwide. The Group has increased production to meet the requirements of new markets opening their doors to DIT brands.

Tawhid Abdullah, Managing Director of Damas, the exclusive retailer of DIT brands in the Middle East, elaborated, "According to the latest figures, the UAE imports AED 3.1 billion worth of Italian jewellery, officially making it the largest market for Italian gold jewellery worldwide.

DIT Group is responding to the huge demand in the country by proposing collections that meet the highest design and manufacturing standards. Io Si, Stefan Hafner, Nouvelle Bague and Porrati expand the range of options available to our discerning customers."

Furlotti pointed out that creativity plays a dominant role in managing their brands. "We love to be leaders instead of followers.

The creative input of our designers is of utmost importance to us and we ask the best Italian craftsmen to contribute all their know-how to solve technical problems instead of altering details of our designers' vision. We tend to start trends rather than follow them."

Currently, international jewellery brands count the Middle East as a priority market with the UAE at its core. DIT brands, particularly Stefan Hafner and Porrati, are popular among the country's residents and tourists alike owing to their unique designs, special materials and superior craftsmanship.

The DIT Group is making available the following premium jewellery brands through Damas:
Stefan Hafner:
Made famous by its opulent and seductive creations, the eponymous brand was born in Bologna in the 70s. Each piece features outstanding craftsmanship using precious stones, mainly diamonds, in accentuating rich organic forms.

Porrati:
Roberta Porrati founded the highly successful brand in Valenza ten years ago. It offers feminine and highly fashionable creations distinguished by the creative use of gold and precious stones. The brand introduces thematic collections that interpret the latest fashion trends.