Traditional Yamabudo bags as fashion accessories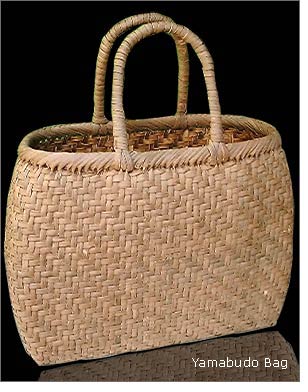 Traditional Japanese basket bags made of yamabudo wild grape vines and a host of other natural materials are becoming a vogue among women and the youth. The hand made feel and the tendency of natural colors to change with regular use are making these bags more popular.

These traditional bags are now becoming intrinsic to casual fashion as more and more of them are depleting from the store shelves. Baskets woven with vines, bark or bamboo are usually crafted by farmers and some of these bags are in fact, for multi purpose use in mountain or agriculture work.

Weaving style for these bags also differs from gozame-ami technique of making fine mesh with narrow bamboo strips to the mutsume-ami technique used for creating mesh with hexagonal eyes.

Apart from yambudo, walnut and cherry are also used as materials for weaving this basket which comes with a cloth liner that is printed with floral patterns on one side and dots on the other. Wearers can therefore use it in a reverse manner as well and it goes in absolute sync when teamed up with kimono, jeans and dresses.

The best thing about this accessory is that it has this exceptional quality of looking better with repeated use. It feels rough at first, but becomes smooth and glistening with continuous use due to secretion of natural oils from the pores of the materials.

Color of the bag will also darken after long periods of use, making them chic enough for autumn and winter as well.