Eclat de Mode manages honourable result in difficult conditions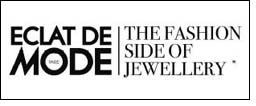 From 30 January to 2 February 2009, Eclat de Mode attracted 380 labels, with 48% from abroad and representing 32 countries. The exhibitors occupied 16,000 sqm of exhibition space.

The exhibitors were divided into 5 universes in order to provide a clear structure and help visitors find their way around:
- Fashion, Designers and Haute couture (56%)
- Silver, Gold, Gold Plated, Fashion Watches and Piercing (31%)
- Fashion Accessories (4%)
- Elements : supplies and finishings (9%)
- CREAM by ECLAT DE MODE, our design laboratory, extended its selection to take in 40 designers, chosen for their fashionable collections, which were displayed to best advantage in its original setting.

The results for the first three days were a pleasant surprise and we had hopes of an overall rise in visitor numbers, since, by the Sunday evening, we were 4.75% up on the figures for the first three days of January 2008.

Unfortunately, the weather on Monday, the last day, was bad and many visitors were forced to cancel their visits due to the snow.

In the end, Eclat de Mode managed an honourable result in difficult conditions, with 11,330 visits over 4 days,
representing a 9% drop in visitor numbers compared with 2008.

This time round, the proportion of French visitors rose to 68%, with 32% of the buyers being foreign and originating from 92 countries excluding France.

EXHIBITORS TESTIMONIALS
Philippe Ferrandis, a loyal Fashion Jewellery exhibitor for the last twenty years: "Even though I noticed a general lull, the buyers who did come were keen to do business. I took fewer orders than at previous shows but my results were still respectable. In my opinion, Fashion Jewellery is a real antidote to the crisis and that's why I decided to be bold in my creations and to create colourful and joyous collections."

The young jewellery designer Véronique Aubrun, who was taking part in Eclat de Mode for the first time, enjoyed a very positive outcome. "I had lots of good responses to my collection, particularly from Japanese visitors, who liked the 'French touch' of my creations. I also booked a satisfactory number of orders from Japanese, Italian, Lebanese, French buyers… and made many interesting new contacts."

The Linapoum fashion jewellery label was also taking part for the first time and picked up on the very welcoming atmosphere of the show and in particular the CREAM space dedicated to young designers, where it was able to pursue exchanges with foreign designers. Going beyond these contacts, Eclat de Mode allowed it to take, "some ten very interesting and serious orders from French buyers, as well as for foreign distribution - a showroom in Tokyo and a boutique in New-York."

Another young jewellery and accessory label taking part in Eclat de Mode for the first time was Phélisséludine, whose satisfied comment was, "I appreciated the positive and friendly atmosphere of the CREAM space. I benefited from the effective oversight of my sales contact and I took advantage of the free video service made available to all exhibitors. I also plan to use the video of my interview on my web site to promote my label.