New Bathing Suit Barbie Doll as a fashion icon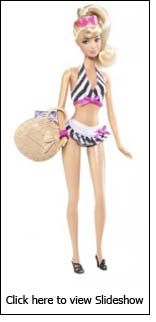 On March 2009, 50 years after her debut at New York Toy Fair, Barbie doll celebrates five decades as the world's most popular fashion doll by unveiling a new face and throwing a pink-carpet birthday bash at her real Malibu Dream House.

Unveiled at the Malibu Dream House, the new Bathing Suit Barbie doll is a modernized version of the original 1959 doll and pays homage to Barbie doll's original 1959 price by offering the new doll for $3 during Barbie doll's birthday week (March 9-14 at participating retailers nationwide).

The doll debuts a new face with a more natural look, including a thinner jaw line, more almond-shaped eyes, fuller lips and a softer makeup palette using shimmery pink lip shades and neutral eye colors. Always a reflection of fashion, pop culture and aspiration, the new 2009 Bathing Suit Barbie doll sports a two-piece black-and-white bikini trimmed with Barbie's signature color pink, pink hoop earrings, a flirty high ponytail, and one of today's must-have accessories – a cell phone.

"Barbie's birthday is a celebration of 50 legendary years as a fashion icon, pop culture princess and inspiration to so many girls around the world," said Richard Dickson, General Manager and Senior Vice President, Barbie. "Barbie's birthday is also the time for generations of girls to celebrate their Barbie memories and create new ones. We're so excited about all the celebrations taking place around the world – through special events, at retail, online, in homes – and we hope everyone finds a way to have a Barbie moment today."

Also in celebration of her birthday, Barbie has moved into a new residence – a real Malibu Dream House – a 3,500-square-foot home in Malibu, Calif., decorated by famed "Happy Chic" interior designer Jonathan Adler. The home is a life-size interpretation of Barbie's much fabled Dream House bringing to life all the fantasy and fashion of Barbie with customized design elements such as skirted, corseted, lace-up "dress" chairs, a chandelier made of Barbie hair, a closet filled with thousands of pink shoes, a sunburst mirror made from 65 Barbie dolls, several pieces from the Barbie Loves Jonathan Adler home décor collection (launching nationwide in September 2009), and a garage that includes a real Barbie Volkswagen New Beetle car (all pink with a motorized, pop up vanity in the trunk).

The house also features a Barbie Museum which houses dozens of dolls and art from Mattel's archives, including a rare #1 (1959) Barbie doll, several dolls from throughout the decades and art pieces such as Barbie paintings by Andy Warhol and Donald Baechlor.

"Of all my work, bringing to life Barbie's famous Malibu Dream House has been one of the most fun design projects yet," said Jonathan Adler. "Barbie was a dream client because she doesn't have a husband to rein in the fantasy or tone down the glamour."

Barbie's Malibu Dream House will play backdrop to an outrageously pink Barbiebirthday party designed by event-planner-to-the-stars Colin Cowie, which will include more than 45 celebrities walking the pink carpet, music by DJ AM, specialty cocktails such as the Barbie "Doll-icious" and "Strawberry Blonde," custom floral centerpieces shaped as stilettos heels and a "plastic fantastic" theme infused throughout the night. Some of the party details include 1,800 pairs of Barbie sized sunglasses, 3,500 pairs of Barbie shoes and 3,500 Barbie handbags used to fill custom designed Lucite tables. Also, 3,000 pink roses make up the centerpieces, 146 pounds of pink candy line the dessert table and 1,030 pounds of ice were used to create an ice sculpture of a birthday cake.