PUMA to sponsor 'The Legion of Extraordinary Dancers'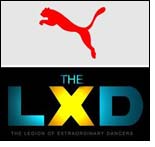 Agility Studios, a boutique studio focused on the creation of media franchises, has teamed up with film director Jon M. Chu, best known for "Step Up 2: The Streets" to introduce Chu's newest franchise, "The Legion of Extraordinary Dancers" (LXD). The first product of the LXD partnership will be an online series that has already attracted sportlifestyle brand PUMA as official footwear sponsor.

"LXD is a multiplatform franchise with content that will span Internet, live events, wireless, instructional video, film, television, licensing and merchandising," said Scott Ehrlich, Agility Studios CEO, "It is the quintessential project our company looks for. It has multiple revenue streams and, in Jon M. Chu, a premium talent who is fluent in all media and known for consistently delivering great product."

The roll-out of LXD will begin in the 2nd Quarter of 2009, with Volume One an online series of scripted stories that chronicles the formation of the most elite dance crew in the world, the LXD. Expansion to other media products will follow throughout 2009 with some deriving revenue from advertising and sponsorship, and others that have retail purchase or subscription based revenue streams.

"Agility was the right partner for the Legion of Extraordinary Dancers because they understood the vision of the next step in the dance revolution. This is unlike any dance brand before it and Agility has the experience and expertise in traditional and new media that is needed to make the LXD a success: business development, production resources, and sales and distribution deal-making," said Jon M. Chu, creator of the LXD. "They joined me to make this idea into a business that I hope will go on for a long time."

LXD will benefit from Chu's substantial mainstream success. After "Step Up 2: The Streets" grossed over $150 million worldwide, Chu teamed up with members of his cast for "The Biggest Online Dance Battle in History," a series of dance battle videos featuring top crews and celebrity cameos that garnered over 45 million views online and attracted feature performances at the "Teen Choice Awards" and YouTube Live. The next step in this evolution is "The Legion of Extraordinary Dancers," a franchise that intertwines the best dancers in the world with comic-book style characters, a cinematic narrative, groundbreaking live performances, and multiple product lines in video, merchandise and even electronic dance products.

Sportlifestyle brand PUMA is the debut LXD sponsor, as the exclusive footwear supplier. Already a fan favorite in the dance industry, PUMA has selected a key style for LXD to represent for the brand: the 917. Available in low and high top versions with a variety of art-inspired canvas uppers, as well as bright, eye-catching metallic vinyl, this fashion-forward PUMA style was a perfect silhouette for the dancers given its flexibility, versatility and style for both dance and everyday streetwear. New for this season, the 917 styles featured in the series will be available at PUMA Concept Stores Nationwide, store.puma.com and other sportlifestyle retail partners.