Swarovski CRYSTALLIZED: new concept store dazzles New York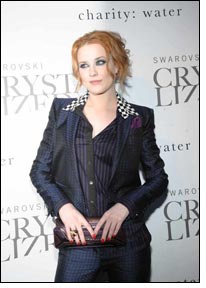 In Spring 2009, Swarovski launches its innovative new concept store, Swarovski CRYSTALLIZED, in a prime New York City location – 499 Broadway. The 5,000 square- foot flagship store is the only one of its kind in the U.S., a unique, creative playground where customers can experience the seductive allure of CRYSTALLIZED – Swarovski Elements.

For the very first time Swarovski CRYSTALLIZED offers a sparkling opportunity to customize jewelry, alongside an extensive new line of ready-to-wear and exclusive designer jewelry. The store also includes an inspirational relaxation and exhibition space – the Swarovski CRYSTALLIZED Lounge.

The Swarovski CRYSTALLIZED Store
Under the catch-cry "Express yourself", the Swarovski CRYSTALLIZED Store provides a host of glittering treasures for fashion-forward individuals. Seasonal and exclusive limited-edition collections created in collaboration with world-class designers are introduced throughout the year, with cutting-edge pieces from names such as Andrée Putman, Philippe Ferrandis and Janis by Janis Savitt. Customers will also find a dazzling range of ready-to-wear jewelry, each tailored to a different style mood: Glamorous, Classic, Romantic, Natural or Modern.

Those looking to express their individual style can either draw inspiration from and customize existing designs, or purchase sparkling ready-to-wear pieces. In line with the growing enthusiasm for unique, personalized pieces, the store offers access to more than 2,000 CRYSTALLIZED – Swarovski Elements, an infinite range of crystal colors, cuts and shapes, presented in an accessible, super-chic "Library of Light".

Jewelry Store and Personal Stylist
For those who require a helping hand, interactive fun can be had with two specially created software tools. The online Jewelry Store's design tool allows customers to discover their design preferences and create customized pieces. The tool can be used at home or in-store, where staff can offer hands-on guidance. It offers a whole range of individual templates, where crystal colors, shapes and cuts can be altered.

The final designs are then made to order and available for pick-up at the store within two weeks: a bespoke design service providing a touch of celebrity glamour. High-quality service and consultancy are also offered via the Personal Stylist, an innovative tool that matches crystal shapes, colors and designs to hair and eye color, skin tone, facial shape and features.

Customers also select one of the five style moods to ensure each jewelry design is a flattering expression of their individual taste and personality. Again the online tool can be used at home or in-store, where staff members offer in-store guidance to help visitors unlock the secrets of their own unique style. All information is collated on a personalized set card which can be printed out for future reference.