Blue Nile embraces premium brand status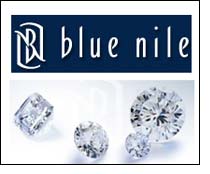 After 10 years in business, Blue Nile Inc announced the launch of an all new Blue Nile website (www.bluenile.com). With new innovative features, enhanced product visualization, larger images, expanded product detail, and new ways to view products the site provides customers with an even better way to shop for the finest in diamonds and jewelry.

"Since our founding in 1999, Blue Nile has grown from startup to become the leading online jewelry retailer, as well as one of the largest specialty jewelers in the world. We created the new website to provide an enhanced look and feel that reflects our premium brand positioning," said Diane Irvine, Chief Executive Officer. "Consistent with our guiding principle of executing with excellence for our customers, our site provides exciting new tools and features that will enhance the Blue Nile shopping experience."

As one of the world's largest sellers of fine diamonds and diamond engagement rings, Blue Nile has enhanced its Diamond Search capability and BUILD YOUR OWN RING® feature with a completely new layout, providing more search tools for consumers, and even greater ease of use. In addition, Diamond Search contains a new, intuitive comparison feature, which enables customers to evaluate diamonds side-by-side. The new BUILD YOUR OWN RING® feature is even more powerful than the original, containing more information and tools to make it even easier for customers to create their perfect ring.

The new site also provides enhanced navigation, search, and product filtering capabilities. These new features let customers define and have more control over the shopping process. Consumers can now narrow their selection to generate a product assortment customized to their specifications, rather than view numerous pages to find their perfect product.

"Most fine jewelry customers are men buying gifts for their wives or girlfriends," said Senior Vice President Sue Bell. "We know our customers, and they want to be in control of the shopping process. This redesign gives him even more tools to create his own shopping experience."

New Blue Nile Features: A Closer Look

BUILD YOUR OWN RING: Even more powerful than its predecessor, the new BUILD YOUR OWN RING feature, which searches more than 60,000 fine diamonds in seconds, provides a more intuitive user interface. In addition to being able to filter results by carat weight, cut, color, and clarity, consumers can use advanced search features including delivery date, polish, symmetry, depth and table percentage, fluorescence, price per carat, and culet. The updated BUILD YOUR OWN RING also allows customers to watch as their ring evolves into a finished engagement ring as they progress through the shopping process.

Enhanced Product Visualization: Product images on the new Blue Nile site are more than four times larger than on the previous site. The larger product images, ability to see greater detail, and additional product views give customers a close-up look at the high degree of quality and superior craftsmanship that goes into every Blue Nile product.