Lilly Pulitzer launches Lilly Loves Green!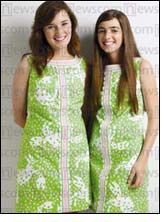 Beginning this November, Lilly Pulitzer is launching a year-long "Lilly Loves Green" campaign. Following the brand's 50th Anniversary "Jubilee", the launch of Lilly Pulitzer's year of green comes perfectly timed with America Recycles Week, which runs from November 8th to the 15th. Lilly has never repeated a print in 50 years, and this time their signature prints will raise funding and awareness for important green causes.

Looking back over 50 years, what really makes people smile are the old Lillys. Not wrinkled and old. But worn and loved and just eeking good stories.They have a memory of a vacation to somewhere sunburnt and wonderful. A mom saved them for her children. Or a cousin wore them, passed them to a neighbor who is packing and saving them for a sister. They're meant to be recycled!

Fortunately people have been recycling Lilly Pulitzer for years, whether passing it along to future generations to enjoy, or searching consignment stores for pieces they know will last for decades. So Lilly Pulitzer is introducing a capsule of items that are just that...the "Originals" collection. Launching in tandem with America Recycles Week, they embody everything that's treasured about Lilly and will be here for generations to come, in the hopes that wearers will enjoy them to the fullest and then pass them along. In other words... Reduce. Reuse. Re-Lilly.

The Lilly Pulitzer Resort collection features one print called "In the Slim", inspired by an iconic Slim Aarons fashion photograph taken in 1964 for the pages of Town & Country. Modern day "Originals" Kick and Kyra Kennedy, daughters of Bobby Kennedy Jr., carry on the family tradition by modeling "Originals" styles in Lilly Pulitzer's Resort campaign. They are following in the footsteps of "original" Lilly fans, Jackie, Kathleen and her mother, Rose Kennedy. The Kennedy gals even donated all of their modeling fees to family-founded Riverkeeper Foundation, an organization dedicated to keeping the Hudson River as green as possible.

Beyond being "sustainable" in concept, the collection itself is also eco-friendly: All hangtags and in-garment labels are made of 100% recycled material. The collection is officially endorsed by Cotton Inc., and the dye process in which the garments are printed is internationally certified as using low-impact dye, eliminating any harmful byproducts. The common recycling statistics are out. An aluminum can take 500 years to break down. A glass bottle can take 1000. Did you know Americans throw out an average of 68lbs of clothing a year?

Lilly Pulitzer is enlisting its customers to help recycle clothing, by donating it to a very worthy cause. Someone in need of something special...and Lilly's got just the group! Meet The Princess Project. A 100% volunteer effort and non-profit organization solely devoted to putting smiles on girls' faces. They provide free dresses and accessories to high school girls who could not otherwise affordthem to wear to one of the most memorable nights in a girl's life...prom. Lilly Pulitzer is inviting customers nationwide to dive into their closets to recycle for mother earth and an incredibly good cause...