LVMH confirms soundness of its strategy in 2009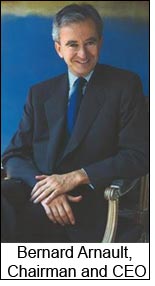 LVMH Moët Hennessy Louis Vuitton, the world's leading luxury products group, recorded revenue of 17.1 billion Euros in 2009. In a difficult economic environment, the Group continued its strong growth in Asia and showed good resilience in Europe. Louis Vuitton recorded double-digit revenue growth for the year.

With a significant improvement in performances across all its activities, the Group's organic revenue grew 1% in the fourth quarter. A record level of revenue was achieved in December. In Wines & Spirits, the particularly strong level of destocking seen in the first half slowed down towards the end of the year. All other business groups achieved growth in revenue on a comparable structure and at comparable exchange rates during the quarter.

Profit from recurring operations was 3 352 million Euros for the year and resulted in a current operating margin of 20%. These results reflect the strong reactivity of LVMH's teams, the cost control measures taken to adapt to the crisis as well as the success of the Group's star brands. Group share of net profit was 1 755 million Euros.

Mr. Bernard Arnault, Chairman and CEO of LVMH, said: "LVMH demonstrated exceptional resilience in 2009. The quality of the products, the powerful appeal of our brands and the reactivity of our organization are the major advantages that made the difference and enabled the Group to win market share. Louis Vuitton in particular delivered another year of growth and has fortified its leading position. Sustained by its sound strategy, LVMH is ideally positioned to benefit from the recovery and to continue in 2010 to strengthen its leadership in the global luxury goods sector."

Highlights of 2009 include:

• Market share gains for star brands in their key markets,
• Continued strong growth in Asia,
• Exceptional momentum at Louis Vuitton with double-digit revenue growth and excellent profitability,
• Good resilience from Parfums Christian Dior and Hennessy, linked notably to the strong performance in growing markets,
• Growth in revenue and profit from recurring operations at Sephora,
• Strong increase in free cash flow due to rigorous inventory management and targeted investments,
• Improvement in gearing which fell to 20%.

Fashion & Leather Goods: continued exceptional performance from Louis Vuitton

Fashion & Leather Goods recorded revenue growth of 5% in 2009. Profit from recurring operations was 1 986 million Euros. Louis Vuitton, with double-digit revenue growth in 2009, continued its exceptional momentum and once again strengthened its leading position at the heart of the luxury goods market. The year was also notable for its creative innovations, both in terms of new models for historic lines, as well as the launch of a new high-end jewelry collection. In the fast growing men's market, the rapid progress of the Damier Graphite line contributed to the brand's excellent performance. Among the highlights of the fourth quarter were the opening of Louis Vuitton Maisons in Las Vegas and Macao. Fendi, Donna Karan and Marc Jacobs demonstrated their resilience in a difficult environment.