Fashion Interventions at Macy's Fashion Director site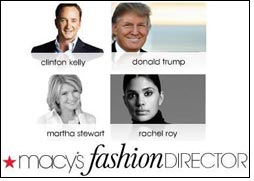 For some, fashion is a challenge, a game that is won based on an ability to translate the latest trends, mix and match the right pieces and accessorize like the world's top fashion directors. Starting Monday, March 8, Macy's will give the fashion savvy and the style-challenged a chance to put it together with the launch of Macy's Fashion Director, an online site that will guide consumers through the hottest Spring trends and help them put together outfits for any occasion. Using the online tools provided, Macy's invites customers to pull together the perfect outfit for daily fashion challenge scenarios. Each day, completed entries will be voted on by the general public and the look with the most votes will be awarded a $500 Macy's gift card prize. One $500 Macy's gift card will be awarded each day.

Budding fashionistas take note, the 30-day fashion challenge is your chance to join the exclusive world of the fashion director and take your style savvy to the next level. By virtually shopping the trends and experimenting with key pieces via a few clicks of the mouse, the stress of renewing your wardrobe will be so last season.

Macy's even tasked its key style makers including Martha Stewart, Donald Trump, Clinton Kelly, and Rachel Roy with their own seemingly impossible fashion challenge. The results of the makeover tests are a series of mockumentary-style short films called "Fashion Interventions" hosted on the Macy's Fashion Director site. These spirited how-to films capture our star advisors in irreverent scenarios conducting fashion interventions with some unlikely characters. How did these fashion mavens fare against the style-challenged? The answers will be revealed over the course of several weeks.

"We know that fashion is an ever-evolving sport and that putting together an outfit whether for everyday or for a special occasion, can sometimes be a major challenge," said Martine Reardon, executive vice president of marketing for Macy's. "With Macy's Fashion Director, we are providing our customers with a fun, interactive tool that allows them to learn about and experiment with the season's trends, engaging them in a unique way with a special reward for putting it all together."

According to an online survey of Macy's customers, almost half the women polled reported that they have trouble putting together an outfit on a regular basis. The most common challenges include how to wear the latest styles and how to mix and match pieces from current trends with items already in their wardrobe. Macy's Fashion Director helps address these common issues with an easy-to-use tool that helps put it all together. Using the mix and match tool, participants will be able to virtually select pieces from the perfect skirt to the must-have accessory to create a unique outfit that is ideal for the challenge of the day.

Starting March 8, daily fashion challenges will be posted on the site that range from the fun and flirty to the classy and chic. From putting together an outfit for a blind date to selecting the perfect look for a big work presentation or for a wedding rehearsal dinner, the challenges will mirror everyday situations, as well as special occasions. Participating stylists will begin with a blank virtual canvas and suggested pieces from Macy's Spring 2010 collections. From there, an individual's creative and style sensibility will be the guiding force in creating a unique look.