Advantex inks deal with Aeroplan & CIBC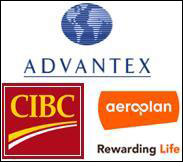 Advantex Marketing International Inc. a leading specialist in merchant funding and loyalty marketing programs announced that it has signed a multi-year partnership agreement with Aeroplan Canada Inc. that will enable Advantex to offer Aeroplan Miles to retailers in the fashion clothing, footwear and accessories sectors across Canada. There is strong interest in the market from many fashion retailers who want to offer Aeroplan Miles to their customers.

"This agreement with Aeroplan is very exciting and significant for Advantex in a number of respects," said Kelly Ambrose, Advantex's Chief Executive Officer and President. "It is our second major marketing agreement with a Canadian business enabling Advantex to manage merchant based programs for a leader in loyalty programs and is indicative of the recognition that Advantex is receiving for our experience and leadership in this area."

"For the first time, Advantex will be able to market our services to retail merchants in men's and ladies' fashion clothing, footwear, and accessories across Canada. Under the agreement we will offer retail merchants in selected categories the opportunity to participate in the Aeroplan Program. Aeroplan Members will earn one Aeroplan Mile for every dollar spent in addition to benefiting from various special offers including first time purchase bonuses. This agreement enables Advantex to expand our merchant base into these segments, providing us the opportunity for profitable growth of our business," Mr. Ambrose said.

Aeroplan, Canada's premier loyalty program, is owned by Groupe Aeroplan Inc., a global leader in loyalty management. Aeroplan's millions of members earn Aeroplan Miles with its growing network of over 75 world-class partners, representing more than 150 brands in the financial, retail, and travel sectors. In 2009, over 2.1 million rewards were issued to members including more than 1.5 million flights on Air Canada and Star Alliance carriers which offer travel to more than 1,000 destinations worldwide. In addition to flights, members also have access to over 600 exciting specialty, merchandise, hotel, car rental and experiential rewards.

Advantex will target high-end branded fashion clothing, footwear and accessories retailers in major cities across Canada. Advantex also plans to introduce its Advance Purchase Marketing (APM) program to merchants in the fashion clothing, footwear, and accessories segments. Under the APM program, in addition to offering Aeroplan Miles and participating in marketing and loyalty promotions, merchants are able to obtain cash in advance for working capital based on future sales.

"The APM program has been a great success, proving very popular with merchants since its launch in the restaurant sector. More than half of the nearly 650 merchants that Advantex operates in the CIBC Advantex program, are in the APM program and we expect participation will grow rapidly now that we are able to make it available to retail merchants in the fashion clothing, footwear, and accessories sectors," said Mr. Ambrose.