Mercedes-Benz Fashion Week to have new home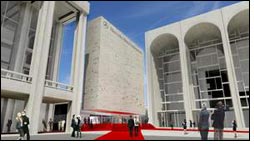 IMG announced plans for its first season of Mercedes-Benz Fashion Week in Lincoln Center's Damrosch Park at a fashion industry briefing supported by The City of New York, Lincoln Center and the Council of Fashion Designers of America. The move to Lincoln Center has allowed IMG Fashion to unveil event upgrades such as modernized production capabilities for designers, digital services concurrent with the advanced needs of the 21st Century, better accessibility for attendees through both public and private transportation and great resources/facilities on-site and in the surrounding areas.

The move to Lincoln Center comes after extensive work between City Hall, Lincoln Center, the New York City Department of Parks and Recreation, New York City Economic Development Corporation (NYCEDC), IMG and the Council of Fashion Designers of America.

"This is a very exciting day for us," said Peter Levy, Senior Vice President and Managing Director of IMG Fashion Worldwide. "The move has allowed IMG to reinvent and improve so many aspects of Mercedes-Benz Fashion Week as well as develop a stronger link to the surrounding facitilies and spaces available at Lincoln Center and the neighborhood. This is the first season in what we are confident will be a long 'run' at Lincoln Center."

Said Stephanie Winston Wolkoff, Director of Fashion, Lincoln Center, "We are delighted to provide Mercedes-Benz Fashion Week with a new home and an extraordinary array of possibilities. Over the past few years, Lincoln Center has undergone a transformation, resulting in a campus that is aesthetically spectacular as well as extremely accessible. We look forward to providing the fashion industry with one central location for activities in and around the tents. In addition, we plan to welcome consumers with a dynamic array of opportunities to engage with the art of fashion."

"The move to Damrosch Park at Lincoln Center is the culmination of a working partnership between the Mayor's Office, NYCEDC, IMG, Lincoln Center, and the Department of Parks and Recreation," said Patrick M. Murphy, Director of the Fashion/Retail Team at the Center for Economic Transformation at NYCEDC. "The enhancements to the tents, the ability to stage additional presentations, along with access to major transportation routes, and the connection with the Lincoln Center brand will be a terrific boost for the fashion industry and will have a positive economic impact for the event and the City."

"The industry support and innovation being utilized to transform Lincoln Center into the new home of Mercedes-Benz Fashion Week is a testament to New York City's premier status among the greatest fashion capitals of the world," said Stephen Cannon, Vice President of Marketing for Mercedes-Benz USA. "Our commitment to the event's success will continue as we officially announce that Mercedes-Benz is renewing a three year agreement with IMG to remain title sponsor."

Mercedes-Benz Fashion Week at Lincoln Center, which will be held from September 9 to 16, will implement a number of technical enhancements to adjust with the changing needs of the fashion community. These upgrades include: a gracious lobby to better accommodate designer guests, press and industry professionals; modified runway theaters and modular designer spaces that support advanced production capabilities; expanded lighting and digital design resources; new décor and increased venue/runway sizes and seating enhancements. The event will continue to host three runway venues and has added a fourth presentation space for designer presentations, industry forums, press conferences and other activities. The venue cost to each designer will remain the same as in previous seasons of Mercedes-Benz Fashion Week.