Colorjet to show two digital printers at APPPEXPO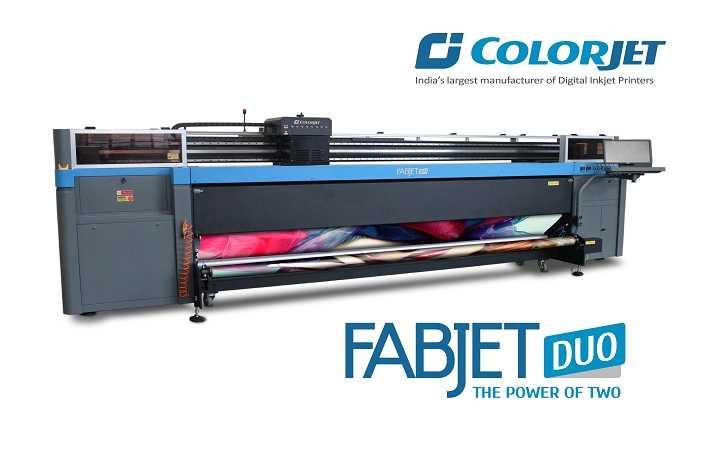 The largest Indian manufacturer of wide format digital printers in India, Colorjet Group is demonstrating the Fabjet-Duo and the Polo Turbo at the 24th Shanghai International Ad & Sign Technology & Equipment Exhibition (APPPEXPO), in Hall 3, Booth A0842.

The Fabjet-Duo has a printer width of 3.2 metres and comes with proprietary RIP software along with specially developed AIVC technology for consistent print performance by maintaining constant jetting conditions even in varying environmental situations.

According to a Colorjet press release, the Fabjet-Duo, which has the 'Power of Two' in one machine, is equipped with a dual ink supply system that gives the freedom to choose between any two of the three inks, whether Reactive, Disperse or Pigment.

"Thus by just a flick of a switch, the printer becomes a reactive or pigment or disperse ink printer, making it an extremely versatile investment for the print service provider," Colorjet explained in the press release.

As per the company, rather than investing in two machines, PSP's now have the option to use just one machine for printing with two of the three inks and is particularly suitable for producers of soft signage like flags, banners, hoardings, demo tents, vibrant backlits, etc.

Additionally, the Fabjet-Duo offers access to printing cotton and polyester fabrics on the same machine, while being a perfect solution for sampling as well as mass production along with being an ideal solution for printing of home textiles.

Other high tech features include; inflatable rods for uninterrupted media loading, variable drop technology for sharper images, automatic wiping system for consistent head performance and many more features.

"The technology helps in reducing costs, due to the light weight of the printed media which is easy to handle and transport and further reduces the application time and labour," the digital printer manufacturer observed.

On the other hand the Polo Turbo is a high speed industrial grade solvent printer, built on a heavy duty structure and its independent drive technology, drives each nozzle independently to achieve high speed production speeds of up to 2800 sq. feet per hour.

The Polo Turbo is a 4-colour printer with printing resolution of 1,440 dpi and can print on media's of width up to 3,300 mm, with a maximum thickness of 3.00 mm and can print on SAV, PVC Banner, Backlit Film, Window Film and solvent based fabrics.