Global supply chain lost $23 bn cargo to theft in 2015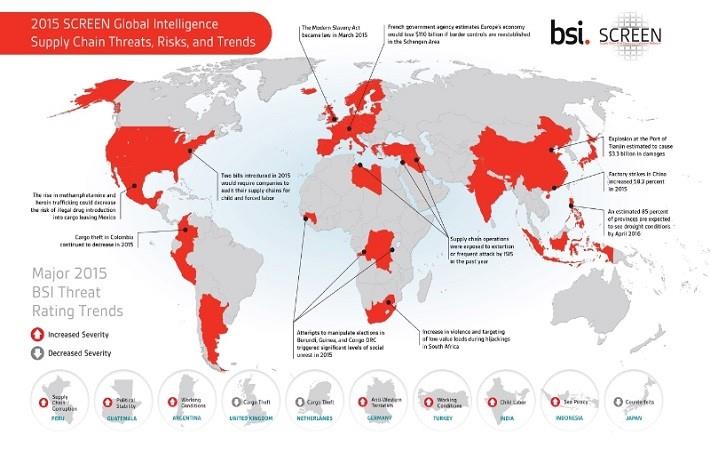 In 2015, a number of cross-border issues threatened supply chains across the world, according to a report by BSI (British Standards Institution), a business standards company that equips businesses with the necessary solutions to turn standards of best practice into habits of excellence.

The report is based on data from BSI's Supply Chain Risk Exposure Evaluation Network (SCREEN), which provides continuous evaluation across 22 proprietary risk factors and 204 countries.

Threats ro supply chains included damages caused by cargo theft worth $22.6 billion; increased number of terrorism incidents contributed to billions of dollars in losses to global shipping companies; an influx of migrants in Europe that harmed supply chain integrity across the continent; economic downturns in Argentina, Brazil, and China; and issues of political transparency that drove social unrest in Africa and Central America.

Extreme weather events, including many attributed to the El Nino phenomenon, caused supply chain disruptions and threatened business continuity in multiple regions. There were also several industries that were plagued by poor enforcement of labor regulations, allowing for significant rates of child or forced labour in Argentina and India, among other nations.

Nearly $23 billion was lost due to cargo theft worldwide in 2015 from a variety of supply chain threats, predominantly driven by security concerns. South Africa has seen a 30 per cent increase in cargo truck hijackings over the last year, with thieves using high levels of violence and switching from targeting only high value goods to also targeting lower value items. Daring vehicle shipment thefts have become increasingly commonplace in China, with a recent series of in-transit vehicle thefts occurring along the busy G45 highway. More sophisticated attacks were observed in India throughout 2015, where criminal gangs masterminded new techniques to steal goods without breaking customs seals in order to avoid detection – a major risk for companies participating in international supply chain security programmes.

In Europe, disruptions in trade caused by the ISIS terrorist group clearly highlighted the link between terrorism and the supply chain. Border controls in France following the November attacks in Paris are estimated to have cost the Belgian shipping industry $3.5 million. Terrorist-linked smuggling rings were also identified to be colluding between Spain and the Middle East, the groups illegally transporting shipments of stolen electronics, drugs, weapons and other contraband.

Elsewhere, the Jordanian trucking industry suffered $754 million in lost revenue since conflict began in the Middle East in 2011.

In addition to theft, business continuity-related threats such as extreme weather events and political and social unrest, led to significant losses for individual companies and national economies last year. 2015's top five natural disasters caused a collective $33 billion of damage to businesses.