31mn bales pressed till date in 2014-15 cotton season: ICF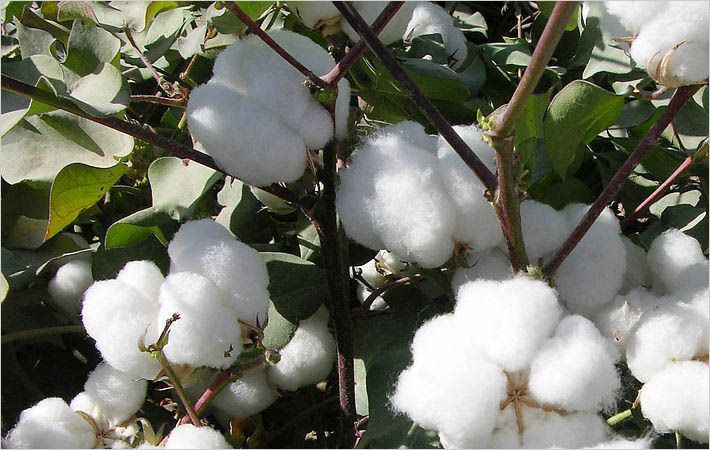 According to an Indian Cotton Federation (ICF) report for the fortnight ended March 31, 2015, around 31 million bales have been pressed till now in the current cotton season.

The CCI has procured approximately 8.6 million bales of cotton till now and cotton off take from CCI godowns is seeing a positive trend in the last few days as many mills have started buying CCI cotton.

The second meeting of newly constituted Cotton Advisory Board (CAB) was held on March 31 to which ICF representatives were invited.

At the meeting the ICF representative, Atul Asher projected the cotton crop for the current season at 38.9 million bales, while CAB concluded the revised cotton output at 39 million bales.

The report informs that cotton prices are moderately firming up, although mill demand is still moderate as they have to fulfill year-end financial commitments.

Trade sources are of the view that a liberal cost effective funding for cotton purchase through a special package may be more beneficial in decentralising cotton stock holding and quality sustenance.

The new export and import policy has received mixed reactions from cotton textile stakeholders, it added.

In Punjab, Haryana and Rajasthan, untimely rains and hailstorms have damaged all the standing agricultural crops.

However, cotton may not be affected much because the season is coming to a close and kappas arrivals have dropped drastically in most of the cotton growing areas in this region.

The prices quoted for good J-34 r/g from Punjab was Rs. 3635 spot per maund while in Haryana J-34 r/g was priced at Rs. 3665 spot per maund and in Rajasthan it was quoted at Rs. 3540 spot per maund.

Kappas arrivals are quite good in the cotton growing areas of Gujarat and cotton prices vary from Rs. 32,500 spot per candy for 28.5 mm cotton and 3.5 micronaire to Rs. 33,000 spot per candy for 29 mm and 3.8 micronaire S-6 Cotton.

V-797 r/g is priced at Rs. 23,500 spot per candy while precleaned V-797 r/g of Dhanduka is quoted at Rs. 25,000 spot per candy.

Daily kappas arrivals has dropped to approximately 10,000 bales in Maharashtra and some pockets in Maharashtra where cotton is grown have received good rainfall in the last few days.

Good quality 29 mm Mech-1 Cotton of Maharashtra is sold at Rs. 32,500 spot per candy in Jalgaon area and good quality 30 mm Mech-1 of Vidarbha area is sold at Rs. 33,500 spot per candy.

Daily kappas arrivals have dropped to 4,000 bales per day in Madhya Pradesh this region and here to some pockets have received good rainfall, due to which ginners are reluctant to sell at lower prices.

Good quality 30 mm Bunny cotton was quoted at Rs. 33,500 spot per candy while 28 mm Bunny cotton was assessed at Rs. 32,700 spot per candy while lower quality Bunny was quoted at Rs. 31,000 spot per candy.