Marantette from E.T. Horn wins Vanguard Award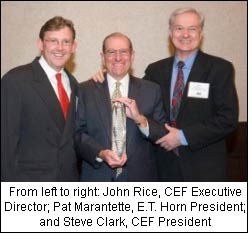 The E.T. Horn Company, a leading national distributor, supplier, marketer, and manufacturer of specialty chemicals, announced that longtime president Patrick J. Marantette has won the Vanguard Award, given for leadership, community service, and educational outreach on behalf of the chemical industry.

The Chemical Education Foundation (CEF) presented the award to Marantette during a Washington, DC ceremony on April 7, 2008.

"I was extremely excited and honored to be there in Washington to receive the Vanguard Award," Marantette said. "I believe in the mission of CEF, and E.T. Horn will continue to support their cause."

For over a decade CEF has presented the Vanguard Award to an individual whose leadership, commitment, and outreach efforts have helped advance the Foundation's mission of fostering a greater understanding of chemistry, the benefits of chemicals, and the importance of chemical safety awareness.

Marantette has long been involved with CEF activities. Most notably, he was a member of the Board of Trustees, serving as President for two years. During that time, he also served as a member of the Long-Range Planning Committee, where he worked to establish a sustainable model of growth for CEF.

He also served as the Funding Committee Chairman where he established a fee structure for corporate contributions to the Foundation. Marantette has continuously promoted the importance of the CEF mission among industry members, securing the participation of key executives on the CEF Board of Trustees, as well as growing resources on behalf of the Foundation.