COMEZ to participate in INDIA ITME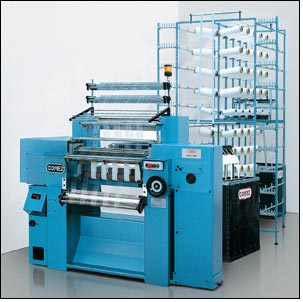 COMEZ is a global leader in advanced narrow fabric technology, offering a complete range of crochet knitting machines, weaving needle looms, double needle bed warp knitting machines and software for pattern programming - used to produce a broad range of laces and bands for underwear, ribbons for clothing, technical textiles, passementerie, fancy yarns and fabrics for outerwear.

COMEZ machines are built using the most modern and innovative technologies, featuring:
• speed and productivity at maximum levels
• reduced machine start-up times with article changes
• near-unlimited range of usable yarn types without difficulty
• versatility, flexibility and ease-of-use.

Thanks to COMEZ technology, narrow fabric manufacturers can create an unlimited range of product types, all of extremely high quality, relying on continuous production (overcoming changes in fashion tastes and market trends), enabling them to enter and be competitive in new market segments.

The following machine will be displayed in the COMEZ stand at INDIA ITME 2008 which will be held in Bangalore (INDIA) on 15 - 22 November 2008.

COMEZ 609/B8 is a high efficiency crochet knitting machine for the production of laces, bands and ribbons, both rigid and elastic.

The machine is built and designed using a modular system that allows for the easy application of a great many devices offered exclusively by COMEZ, completing the basic machine and providing very high versatility.
The versatility comprises:
• a wide range of products that can be made
• multiple pattern possibilities, using the 8 weft bars and the chain extensions
• several gauges available, allowing many different types of article.

COMEZ 609/B8 comes in 600-mm operating width, in gauges from 10 to 24 n.p.i., uses bearded needles and is equipped with 8 weft bars, controlled by link chain. The chain is composed of links with involute profile, which allow high speeds, reducing the noise level and limiting considerably the vibrations of the machine.

This is a highly reliable machine, featuring an extremely advanced mechanical structure: it is the ultimate expression of COMEZ consolidated technology for the production of narrow fabrics in large quantities, performing at maximum operating speeds while requiring machine maintenance that is reduced to a bare minimum.

COMEZ S.p.A.