KARL MAYER's service strategy for the Chinese market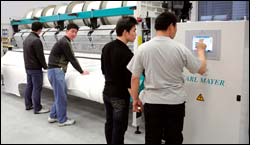 China has the largest garment manufacturing capacity in the world and its operations are highly centralised. More than 70% of all China's production comes from just six provinces, i.e. Zhejiang, Jiangsu, Shanghai, Shandong, Guangdong and Fujian. Another feature of the textile and clothing industry in China is that there is a high prevalence of small to medium-sized companies.

Large companies and huge corporate groups are the exception, a factor which successful textile machinery producers like KARL MAYER have taken into account. This company, which specialises in warp knitting and warp preparation machines, is a dependable partner to all its customers on the market and, as well as offering an extensive range of products, can also provide customised technical support.

The KARL MAYER Group has reorganised its entire service structure and tailored it to suit the specific nature of the Chinese market, so that the company can respond quickly and professionally in the right place and at the right time. In order to cater for the different industrial areas, the country was divided up into regions and a service network was set up to support all the KARL MAYER Group's customers.

The number of service stations depends on the number of companies in a specific area. Service managers and assistants, regional experts and service technicians are responsible for operating this network of service stations. They all work for the service company, KARL MAYER Technical Service Ltd, an organisation that is dedicated to providing technical support and which is closely linked to the new Chinese production centre, KARL MAYER (China) Ltd. As soon as a customer needs help in his factory, all the experience, professionalism and modern facilities of the entire group are activated.

Regional service stations
KARL MAYER operates its own service offices in the south, where there is a high density of textile companies. These technical support stations undertake repair work in their workshops and have a limited number of spare parts available in case of emergency. The activities of the regional service stations concentrate on the specific requirements of the local customers. The regional experts support customers directly from here.

Service according to machine groups
In addition to having a strong regional base, all the technical support operations are focused on the machines and the textiles produced on them. For example, the service and spare parts operations cover lace and net curtains and specials, plain warp-knitted textiles, weaving and warp knitting preparatory processes, and technical textiles. The electrical section covers all these areas.

Every service section has a full service team, consisting of a service manager, an assistant, a spare parts specialist, regional experts and technicians, who all have very specific roles. Whereas the service manager is responsible for managing and coordinating the entire operation, the assistant handles all the queries, from the moment an enquiry is received until the problem has been solved.