Outlast opens new lab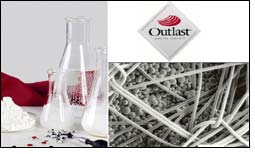 The innovative company Outlast Europe expands its leading market position in PCMs (phase-change materials) successively. A new laboratory was been built up and is now operational in Heidenheim. "We want to invest into the future and into research", says Martin Bentz, Managing Director of Outlast Europe GmbH, Heidenheim/Germany, and to continuously secure and strengthen the location of our European head office in Germany.

Outlast has sourced numerous lab devices and also invested in new personnel. "The sectors research and product development are essential to us", says Martin Bentz. "Of course, we own manifold patents as the market leader, but it is important not to rest on this strategic advantage, but to always be looking forward. We work continuously on new products, processes or PCMs." With the help of the new lab it is easier to move new developments forward in a timely manner.

"It is simply great if you have an idea in the morning and in the afternoon already you have samples with corresponding facts on your desk", says Volker Schuster, R & D Director at Outlast Europe, and is happy with the new flexibility. Until now, all laboratory tasks were performed at Outlast's headquarters in Boulder, Colorado/USA.

Due to a continuously growing customer base and an increase in demand for new developments capacity limits would occur from time to time at the US facility. This capacity increase was just another factor to help push the decision to install a second lab in Europe at Outlast Europe in Heidenheim/Germany. Now, different PCM application processes are more efficiently shown to customers in a timely and cost effective way and allow for impression regarding function, hand and optic much sooner. Coating, printing, padding or spraying – varying processes can be used.

However, not only research, but also product testing is a further central subject to Outlast Europe. With manifold testing possibilities testing times can be reduced significantly and customer service can be improved additionally. The lab's heart is a DSC testing instrument.

The Differential Scanning Calorimetry (DSC) gives a distinctive fingerprint allowing to determine that Outlast technology is included in the product at the appropriate levels. "This testing enables us to show up the temperature regulating properties of Outlast technology quickly and exactly with a curve", says Volker Schuster. Like that we can answer central questions regarding the applied amount of PCM, wash durability, melting or crystallization temperatures, heat capacity and much more.

Suitability or the success of a new development can be identified quickly with the help of these tests. Tests are made for all new developments, but also production controls (of fabrics and ready products) are done regularly with this testing method. Moreover the DSC testing is an irreplaceable partner for the development of new processes and new PCMs.

In addition other textile specific quality inspections like wash trials, fastness etc. can be performed in the new lab as a matter of course. The new lab provides a precious contribution to be prepared best for future tasks and is a further milestone on Outlast's way to secure its leadership in PCM technology.

Leave your Comments
Recommended
Want to know what happened in the textile world this week? Watch now!
news category
---
Related Categories: