Jan David acquires oriental rugs from two family estates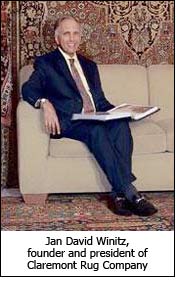 Jan David Winitz, founder and president of Claremont Rug Company, announced the acquisition of the antique Oriental rugs from the estates of two established American families.

This trove of 150 art-level rugs will be featured in a special event entitled "Grand Carpets from Illinois and Washington Estates." A selected sampling of 35 of the rugs, woven as early as 1825, will be available for viewing on Claremont's website (www.claremontrug.com) started from Thursday, April 23, two days before the opening at the gallery on April 25.

"The range of style is incredibly broad because the rugs were amassed by three generations and displayed in five grand residences," Winitz said. He indicated that the sizes range from collectible mats and area-size rugs up to oversize carpets as large as 14x24.

"Remarkably, none of the members of either clan considered themselves collectors," Winitz said, "but they had a highly sophisticated eye for art and loved antique carpets. As a result, they built remarkable caches of supremely decorative carpets that are also investment quality."

He said, "We expect they will be of great interest to buyers who find it difficult to locate very well-preserved antique carpets of rare beauty, as the supply of rugs of this caliber has seriously dwindled."

The Illinois Collection came from three residences owned by a prominent Midwest family. Winitz said that the classically decorated grand English manor on the shore of Lake Michigan
"yielded an extensive group of extremely well-chosen Persian city and town carpets."

He said that the family's Manhattan apartment was remodeled in the 1990s with high-style furnishings and provided "a sizeable array of Sultanabads and other antique rugs with large scale motifs that fit seamlessly into this contemporary décor."

Their third home was an oceanfront Florida family compound decorated in tropical hues. Winitz said, "It was furnished with very hard-to-find antique Persian carpets with light grounds, many of which are magnificent Laver Kirmans and Tabrizs, including some with prized Garden of Paradise and Tree of Life designs."

Winitz said, "All in all, the Illinois rugs are perfect for clients who desire deeply appealing, extraordinarily graceful carpets to supremely decorate their homes."

He added, "On the other hand, the Washington group is a truly eclectic assemblage of artistically innovative pieces. It is literally a dream for both budding and seasoned collectors."

Winitz explained that it comes from the estate of a businessman whose family maintained a substantial residence in the Pacific Northwest for four generations. He said that the oldest rugs in this group were already antiques when the family purchased them in the early 20th century.

The family's second home in Arizona "yielded myriad antique tribal and village rugs, many in wonderful Southwest hues, including a number of solidly collectible Caucasian and South Persian pieces," Winitz said.