UNT's merchandising students to use vrSoftware's Mockshop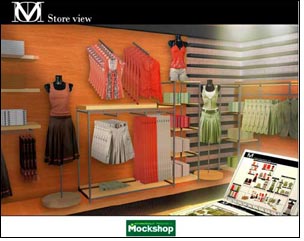 Store layouts and merchandising displays require careful planning from visual merchandisers, who may sketch out floor plans by hand or use software to create sales floor design. These plans can then be distributed to all of the stores in a chain so that the stores will have the same merchandising presentation.

Beginning this fall, students in the University of North Texas' School of Merchandising and Hospitality Management's merchandising degree program will create layouts and plans for store concepts with the same software used by international retailers, thanks to a gift to the school from vrSoftware Ltd., a company in Boroughbridge, England, near York.

Founded in 2003, vrSoftware is a leading provider of software for visual retailing. UNT's School of Merchandising and Hospitality Management entered into an educational partnership with vrSoftware when it signed a software licensing agreement for Mockshop, the company's three-dimensional program to create virtual stores. The partnership developed after Dr. Tammy Kinley, chair of the division of merchandising for the school, met a vrSoftware representative at the 2010 International Textile and Apparel Association annual conference. The Mockshop donation and licensing agreement, which includes annual software updates for the next 10 years, is equivalent to $1.22 million.

vrSoftware has regularly given Mockshop to nonprofit educational institutions as a way of training future retail professionals. The company's website notes that vrSoftware's goal is "to secure the hearts and minds of future generations of visual merchandisers" and educational institutions, which are "quick to embrace new technology and talk with enthusiasm about products to industry."

Other U.S. universities that have acquired Mockshop include Central Michigan University, Iowa State University, Illinois State University, the University of Arkansas and the University of Minnesota. UNT is the first university in the Southwest U.S. to receive Mockshop.

"The value Mockshop brings is the opportunity for merchandising students to become skilled in an advanced technology that enhances visual merchandising, which is one of the most important aspects of connecting stores, buyers and products," said Dr. Judith Forney, dean of the School of Merchandising and Hospitality Management.

The software will be used in Visual Merchandising, an elective course for undergraduates majoring in merchandising and in home furnishings merchandising. Students in the class work in teams of three to four to create fictional stores, said Dr. Sanjukta Pookulangara, assistant professor of merchandising and hospitality management and class instructor.
"Until now, we've been limited to two-dimensional software for creating stores, and students could choose to either go to the computer lab to use it, or create store layouts using only pencil," Pookulangara said.

Mockshop allows students to build three-dimensional virtual stores, using the software's floor plans for small, medium and large stores. The students will select paint colors, flooring, carpeting, ceilings and lights, and fill the stores with fixtures and merchandise. While the software includes photo files, students may load their own photos of actual products to place in the virtual stores. The software also allows the students to display clothing by folding, hanging or placing it on mannequins.