JCPenney installs findmore smart fixture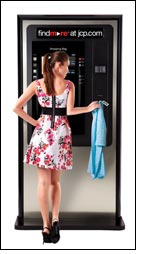 In keeping with its commitment to giving customers the very best selection and shopping experience, J. C. Penney Company Inc has rolled out its findmore smart fixture to over 120 select stores across the country. Additionally, in conjunction with the launch of its Modern Bride concept, the Company will begin rolling out a findmore experience using iPad to 50 fine jewelry departments.

These new initiatives are part of JCPenney's overall findmore strategy which encourages store associates and customers - whether using the fixture, iPad, jcp.com enabled point-of-sale register or in-store marketing pieces - to "find more" by providing access to the expanded assortments and product information available online. Having access to jcp.com in the store ensures that customers find what they are looking for when they visit a JCPenney store and also serves as an associate selling and education tool, allowing store associates to deliver exceptional customer service.

"We've always seen the value of integrating the online and in-store shopping experience offering customers the opportunity to have access to a greater merchandise selection by offering access to online purchases in the stores," said Tom Nealon, group executive vice president of JCPenney. "Offering an in-store digital experience that drives additional sales is a true differentiator for JCPenney, and continues to build on our leadership in the digital space as we merge our online and in-store shopping experiences."

Findmore Fixture Features:

With the findmore fixture, JCPenney is able to take its digital platform directly into the store. More than just a kiosk linking store users to jcp.com's 250,000 online products, the 42-inch touchscreen findmore smart fixture provides a unique, interactive digital experience that naturally fits into the store. Serving as an anchor for the merchandise department, the fixture elevates the in-store shopping experience, allowing users to:

• View jcp.com's vast assortment of merchandise and "find more" sizes, colors, styles and items not available - or out of stock - in the store.

• Experience the power of jcp.com in-store, with strong, interactive, media-rich editorial content, such as jcp.com's Little Red Book experience, which highlights key seasonal women's trends.

• Check the availability of merchandise in-store or nearby stores.

• E-mail images and information about an online item to themselves or a friend.

• Use 360 degree views and zoom features to see all details of a product.

• Scan the barcode of an in-store item to learn more about the product's features, additional colors and sizes available, and even washing instructions. The findmore fixture will also provide product recommendations for complementary items (ex. A customer scans a pair of pants and the findmore fixture will suggest tops and accessories to go with it).

• View items and outfits and add them to an online "dressing room." The customer can then print out a page listing the items, locate the items in the store and try them on.