BRÜCKNER presents revolutionary dryer technology at ITMA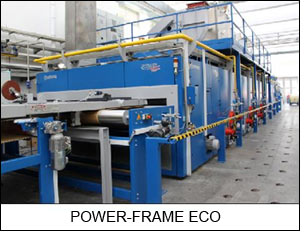 Sustainable, efficient and energetically unbeatable: this is how BRÜCKNER presents themselves on the world trade fair for textile machines in Barcelona. Several completely new drying lines for textiles, nonwovens and coated woven and knitted fabric are the result of intense research and development at BRÜCKNER.

The changes that occurred during the last years and the big price pressure in the textile industry forced many European machinery manufacturers to restructure their companies. The results were in most cases a relocation of the production to low-wages countries and quality deteriorations. BRÜCKNER's reply to these changes was different: to manufacture even better products with new ideas with the target to ensure advantages in competition for our customers. Today and in future we develop and manufacture our machines completely in Germany and our name stands for high-quality products and state-of-the-art technology.

The world-wide demand for textiles is continuously increasing, the energy costs are exploding and the legal requirements have been considerably tightened in the last years. The environmental awareness is increasing in many countries, too. The demand for products which are more energy-efficient, more "green" gets louder and louder. BRÜCKNER made in this field in the last years massive investments and developments. We are looking forward to present you these innovations on our ITMA booth in hall 6, booth no. A-113.

POWER-FRAME ECO - a quantum jump regarding energy efficiency
This innovative stenter could be described also as a synthesis of performance and energy effectiveness. Our engineers developed a completely new, environmentally friendly dryer generation, which requires with increased production output considerably less heating energy. The dryer is provided with a central heating system, a completely new air control system and a sophisticated temperature control system. Compared to a normal stenter with heat-recovery system this dryer saves additionally up to 30 % of energy.

The proven split-flow® air circulation system and BRÜCKNER's typical countered design has been maintained in this concept. This ensures an absolutely homogeneous air admittance to the fabric across the complete length and width of the machine. Since this line can be provided with a support belt it is perfectly suited for delicate knitted fabric, too.

SUPRA-FLOW BH - the first belt dryer for spunlace nonwovens
In the manufacturing of spunlace nonwovens drum-type dryers are in most cases used after water jet bonding. BRÜCKNER's new flow-through belt-dryer SUPRA-FLOW BH sets new standards in the field of spunlace nonwovens.

This belt dryer is characterized by an unmatched temperature accuracy across the fabric width. The drying can be made very gentle and with low temperatures since the zone temperatures and the air circulation intensity can be varied every 1,5 m. In addition the nonwovens are dried on a transport belt without any tensions or distortions. This leads to a very smooth hand and improved quality features. The new belt dryer can be used without problems for large fabric widths, high production speeds and lightest fabric qualities. A particular feature is the unbeatable energy efficiency of this new technology which has been introduced by BRÜCKNER on the market successfully in 2010.