Munich Fabric Start: Resounding success of ECO Village debut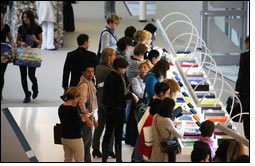 The 29th Munich Fabric Start in Munich closed with a record result of 16,550 visitors. This corresponds to an 11% increase over the previous event in September 2009 posting 14,910 visitors.

In all segments of the trade fair – Additionals, Collections, the Asia Salon and the Blue Zone – the overwhelming majority of exhibitors registered a clear rise in visitor numbers. Represented on site was the complete line-up of German ready-to-wear manufacturers as well as top decision-makers and designers from neighbouring countries, from Austria, Switzerland, Italy and Eastern Europe.

At 33% the proportion of foreign visitors was up slightly; add to this the impressive quality of visitors who included such brands as Burberry, Barbour, G-Star International, Tommy Hilfiger, VF Corporation, Puma, Odlo International, Mexx Europe, Holy Fashion Group as well as retail giants like Topshop, Marks & Spencer and Next Retail. For three days they gathered information in Munich on the latest trends for Winter 2011/2012, concluded deals for the next winter lines or "wrapped" up summer programmes for 2011.

All of this took place in an extremely relaxed, positive atmosphere, where trade visitors voiced their strong satisfaction with the collections and the very service-focused event. Commenting on this Enrico Tomassini, General Manager of Toni Dress (D), said: "To us Munich Fabric Start is the best textile trade fair. It is a wonderful exchange for making contacts. The re-organisation of Blue Zone worked out very well. Its duration shortened to two days is very advantageous."

The good mood prevailing during the days of the trade fair and the increase in attendance also indicate a markedly improved global economy. Since the beginning of the year the majority of the 780 exhibitors have posted noticeably higher sales than only a year ago and also expect further growth for the 2011 Winter season. The only downer being the substantially increased raw material prices of wool and cotton, not to mention alpaca or lambskin, paired with a continued price sensitivity amongst RTW makers and retailers, which adds further pressure on upstream suppliers.

At the end of the trade fair the trend theme "Together Now" chosen by Munich Fabric Start as an overall heading for the 2011/2012 Autumn/Winter season, proved to be the perfect motto for the event as a whole. This was evidenced not least by the mega party, the Munich Fabric Night, which came under the Bavarian beer festival slogan "O'zapft is".

The 100% authentic Oktoberfest complete with pretzels, beer, food by VIP caterer "Käfer" and their famous band at the marquee swept over 1,500 exhibitors and trade fair visitors off their feet (and benches) from the first minute. All of them had a jolly good time and a flood of e-mails with comments reading "unique", "sensational", "hats off" and "brilliant" proved that the organising Munich Fabric Start Exhibitions GmbH had hit the "bull'seye" once again.