WHO'S NEXT & PREMIERE CLASSE represents innovative fair concept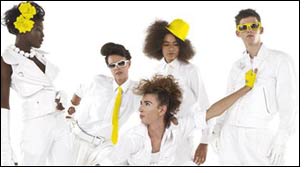 Last March, the organizers of the Parisian trade shows WHO'S NEXT & PREMIERE CLASSE announced the creation, before the end of 2009, of a brand new fashion and accessories trade show in the Gulf. This dream project has since then become reality: WHO'S NEXT & PREMIERE CLASSE IN DUBAI will take place from October 11th to 13th 2009 at the Dubai International Exhibition Center, just one week after the Paris Fashion Week, and will position itself as the ending event of the summer 10 fashion season.

WHO'S NEXT & PREMIERE CLASSE IN DUBAI represents an innovative fair concept for this region of the world, presenting a selection of 250 brands gathering womenswear designers, fashion accessories and urban labels.

THE GENESIS OF THE FAIR
These last five years, the Middle East has experienced a distribution development and an incredible economic dynamism in the field of fashion. Countries in this region having favored luxury and high-quality ready-to-wear, the luxury market has now reached a full development, all the reference brands being well established.

Indeed, for a short while, buyers have shown a general craze for pure creation and fashion products with a strong personality such as those exhibited in Parisian trade shows. WHO'S NEXT & PREMIERE CLASSE IN DUBAÏ aims at influencing the distribution network so the offer can develop.

In constant turmoil and always on the move, Dubai, the kingdom of tourism, business and fairs seemed like an obvious choice for the organizers of WHO'S NEXT and PREMIERE CLASSE!

This ultra-powerful hub will give this event an influence in the whole of the Middle-East: United Arab Emirates (UAE), Qatar, Bahrain, Kuwait, Oman, Saudi Arabia, Jordan, Lebanon, Syria; but also beyond with countries such as Russia, India, Eastern Europe, North Africa (Egypt, Libya, Maghreb) or Turkey.

FRENCH KNOW-HOW, AN INTERNATIONAL OFFER
WHO'S NEXT & PREMIERE CLASSE IN DUBAÏ capitalizes on the know-how of the Parisian trade shows. The new fair banks on the DNA which has made WHO'S NEXT and PREMIERE CLASSE successful for more than 20 years thanks to their very recognizable state of mind: a complementary offer of exclusive brands, confidential labels for targeted market segments, without forgetting expert and avant-garde fashion information.

Altogether, the fair will feature 250 exhibitors*: 100 brands of womenswear, 100 accessory designers and 50 urban labels. The trade show favors an international selection with about 40% French exhibitors financially supported by UBIFRANCE (50% of the booth is funded). This offer will be completed by European brands (Spanish, Italian, English, Scandinavian...), but also brands from developing countries such as Brazil. Three goals: to give these brands the opportunity to establish themselves in this new region, to strengthen the action of brands that are already represented and help brands to understand the expectations of this market.