Eterna Mode successful with Oeko-Tex Standards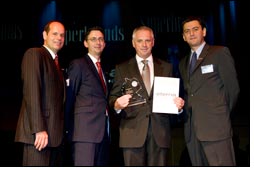 Eschborn (IS) the brand eterna Excellent by Passau-based manufacturer of men's shirts and blouses eterna Mode GmbH has been awarded the designation "Superbrand 2007/2008" – known in industry circles as the brand Oscar.

An international panel of experts selected 77 candidates from among 1,200 applicants and awarded them high marks for brand prominence, customer loyalty, endurance, market acceptance and goodwill – the last being the significance of the brand above and beyond its accounting value – and thus welcomed the group into the German crème de la crème of brands.

Eterna managing directors Wulf Nerbe and Klaus Weber felt very honoured during the official awarding ceremony which featured certificates and trophies.

Weber explained: "We view the award as a confirmation of our business strategy." Accordingly, the significant success of the company can be traced back to its strategy of positioning itself as a quality supplier. The main factors are innovations such as non-iron features, timely globalisation, a focus on specialty retailers, the establishment of own shops and franchise systems and last but not least – environmentally friendly production methods.

Very early on eterna developed a company philosophy oriented towards excellent textile ecology, therefore enabling the company to successfully differentiate itself from other competitors. Weber confirms that the factors product safety and environmental compatibility played a decisive role in eternal Excellent's success: "Eterna Mode is the only clothing company in the world that has held the highest eco seal of approval for textiles and clothing already since 2000."

The certification for Oeko-Tex Standard 100plus confirms that the company in fact is able to document a flawless textile-ecological value chain, which ranges from yarn production through all processing steps to the finished product, including all materials used in the process up to the packaging of the finished products.