6,500 guests enjoys Kala Raksha Mela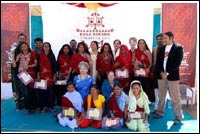 KRV's second year began in February 2007, and graduated on 19 January, 2008. This was a year of reflection, revision, and contemplation of our future.

We began on a note of great uncertainty, as two mega power plant projects begin to surround our campus. Accordingly, we made the decision to hold only one class this year.

In this more focused arena, we consolidated our experiences of last year, fine tuned our curriculum, and began alumni programs. This year's class was all women. Women, in particular, must constantly balance the traditional and the innovative.

So, while we celebrated Design, and Achievement at our convocation, we also celebrated these graduates' courage. They surmounted a variety of obstacles some that we may overlook.

To abide by social conventions, for example, young women brought with them elders. The range in ages of our class brought pleasant surprises, as the experience of the elders and the fresh concepts of the young brought a lively exchange of ideas.

We felt sorrow as well this year, as two of our long time Kala Raksha coordinators Pachhanbhai and Bayabai tragically passed away.

Both supported our Design Education. Bayabai was a student this year, and we dedicated this year's Mela to Bayabai's tremendous courage and creativity.

Convocation Mela 2008!:
Kala Raksha Vidhyalaya's gala Convocation and Mela was held from January 18th evening to 20th afternoon. The public event was preceded by the Final Jury of this year's collections.