Many in favor of Cologne as trade fair location – Koelnmesse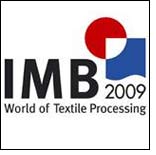 After the conceptual sponsor of IMB — World of Textile Processing, the VDMA German Garment and Leather Technology Association, ended its partnership with Koelnmesse just a few days after the successful end of IMB 2009, many companies voiced their irritation concerning the association's one-sided course of action. They regard IMB as the perfect presentation platform for their products and services.

"We are currently holding extensive discussions with the companies. From the very beginning, these discussions have highlighted the great importance that the exhibitors of IMB attach to the event as an international sector platform. We wish to respond to this support so that we can continue to provide the textile sector with an internationally important trade fair for the textile and clothing industry in Cologne in the future," says Gerald Böse, CEO of Koelnmesse GmbH.

Thomas Rasch, Executive Director of GermanFashion, Modeverband Deutschland (Fashion Association Germany), finds it difficult to understand the decision of the association: "We regret the decision of the VDMA trade association. We cannot understand how it can now question a trade fair that is as internationally successful as IMB. It is the leading international trade fair for state-of-the art technology in the clothing and textile industry, a true 'brand product' that is firmly fixed as part of the sector's self-image. The sector needs such a platform, and IMB can provide it."

In all the discussions held after IMB it has become apparent that the greatest potential of IMB — World of Textile Processing lies in its mix of extensive clothing expertise and its interplay with the other areas of application of the sewing industries.

Johannes Ibach, Group Marketing Manager of Amann Group, agrees: "We achieved our goals at the trade fair. Even though we also experienced declining visitor numbers, the discussions we held were very intense and they led to many new contacts and follow-up activities. As in previous years, IMB proved to be the perfect presentation platform for our innovations."

Thomas Willing, Managing Director of Avery Dennison Central Europe GmbH, goes one step further: "We achieved everything we aimed to, our stand was packed and we had more visitors than three years ago — it was an excellent trade fair. We expect the next IMB to be even more successful than this year's event."

For Dr. Kerstin Friedrich, authorized shareholder of GRAFIS - Software Dr. Kerstin Friedrich GbR, the decrease in visitor numbers didn't stop success: "Participation at IMB 2009 was a huge success for the Grafis team. We held many more discussions with customers and interested visitors than we did at the last IMB. The share of foreign visitors had decreased noticeably, which was most likely due to the reduced travel activities resulting from the current economic crisis. This was, however, more than offset by the increased domestic interest. We are therefore very satisfied with the results of the fair."