Precision, productivity & performance define the GERBERcutter Z7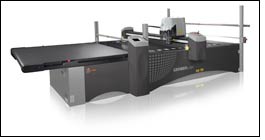 Gerber Technology, a business unit of Gerber Scientific Inc, and the world leader in providing innovative integrated software and hardware automation systems to the sewn products and flexible materials industry for forty years, launches the GERBERcutter Z7. The first in the new Z Series premium line of multi-ply cutting systems, the Z7 is engineered to meet the demands and business challenges of manufacturers in many industries including automotive, aerospace and apparel.

GERBERcutter Z7 combines precision with efficiency to consistently cut the most demanding materials to the tightest of tolerances. It maximizes throughput and yield while cutting intricate shapes, multiple-hole sizes and notches with high accuracy across a full range of material types and thicknesses, including bi-laminate foams, technical textiles and high-loft fabrics.

The Z7 is designed to help manufacturers meet continuous improvement initiatives and pressures within the supply chain for quality and turn time with more stringent requirements for reporting of performance metrics. With environmental concerns and energy consumption regulations mounting, a key value to the Z7's design is its increased efficiency and reduced power usage.

"The voices of our customers were the driving force behind the features and functionalities of the Z7," said Ron Ellis, product manager, Multi-Ply Cutters & Control Systems. As a component of Gerber's "Voice of the Customer" (VOC) product development process, members of a cross-functional team met with companies in the Americas, Europe and Asia to interview and observe them.

"Through our VOC work, our team identified solutions to needs that even our customers didn't realize existed, just by virtue of our process. To see these features and functionalities in production today is really rewarding, and is a testament to the insight and expertise that comes from being in the business for 40 years," added Ellis.

A key requirement for cut part quality is material stability. The Z7's hardware and software systems were designed to work together to ensure piece-to-piece and bite-to-bite accuracy. Gerber's exclusive CutWorks cut path optimization software, digitally-controlled variable vacuum regulation, advanced electronics and a new conveyor design enable material to convey while under precise vacuum levels throughout the cutting process. Depending on the application, an integrated clamp bar is available for conveying material when not under vacuum.