Damodar Threads – Apt at mixing business & CSR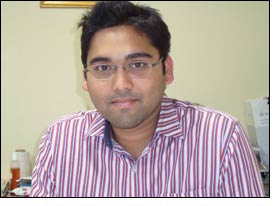 Would you come across a textile business house rearing a particular breed of cows to save them from extinction? Would you also come across a third generation scion from the business family, who knows the names of most of these cows? Very unlikely!

He is none other than 25-year old – Aditya Biyani, son of Mr Arun Biyani of Damodar Threads Ltd which posted revenues of Rs 3.85 billion in the previous fiscal year.

Aditya studied at GD Somani School in Mumbai. Completed his Bachelor in Management Studies from Lala Lajpatrai College and went on to do the "Family Managed Business" course from the renowned SP Jain Institute of Management Studies.

He has represented his school and college at the state level in roller skating and also plays the tabla proficiently.

Aditya and his elder brother – Aman love to play snooker religiously on Sunday's. He also loves traveling. A family trip is a must every year either in India or overseas. Sometimes he also goes out with friends.

Speaking to Aditya, one gets a feeling that the Biyani's are a very close-knit family. He refers to various members in the Biyani family, including his uncles Mr Anil and Mr Ajay and his cousin – Abhishek , a number of times, during our nearly two hour long chat,

Aditya, his brother Aman and cousin – Abhishek, who joined the business in 2009, meet at least once a week, and discuss about their areas of work over dinner.

Aditya is a technology freak and loves to have the latest gadgets, which could be a blackberry or the latest IPad. He also loves watching English movies on his very own home theatre. Reading management books is also a passion and he counts 'The Goal' by Eliyahu Moshe Goldratt, among his favorites.

The Biyani family hails from a town called Sikar, 70 kms from Jaipur and they make it a point to visit their hometown at least once in two years.

Since Aditya was brought up in a joint family, respect for elders and cousins comes naturally to him. Having a conciliatory nature, was also one of the most important virtues taught to Aditya. Honesty and business ethics were core values he picked up from his father and uncles.

Aditya says, "I am proud to say that, we consider ourselves as the most ethical company. We import a lot of raw materials. However, we have never under-invoiced any imports and pay up the full customs duties. My father always believes that either it is white or black. There cannot be grey areas".

His grandfather – Mr Damodar Biyani moved to Mumbai and after working for a few years, set up a fabric trading business in early 1970s. Later on, the family set up their first textile production plant – a yarn doubling plant in 1987.

With passage of time, the Biyani's realized that to withstand competition from the bigger textile players, they would have to achieve economies of scale. However, they decided to enter a niche yarn segment – fancy yarns.